I have manged to Alfa AWUS036H and  TP-LINK TL-WN722N external usb adapter to work with aircrack-ng with backtrack for ARM in my Galaxy Note II.
Here is my PoC video of cracking WEP encryption on one of my test access point using AWUS036H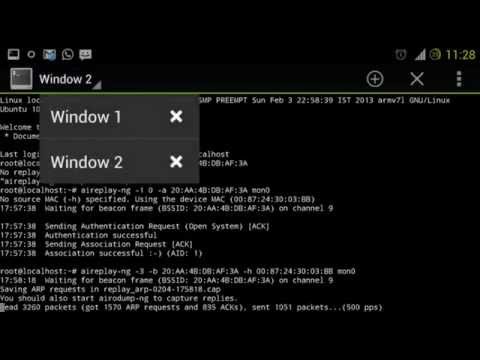 I have created a recovery flashable zip with scripts to load/unload  drivers .As usual root is required. This package contains a modified cm10.1 kernel. This package will work only in a cm10.1 rom.
loadrtl :- will load rtl8187 drivers
uloadrtl :- unload rtl8187 drivers
loadath :- load atheros driver
unloadath :- unload atheros driver
Download base package contains RTL8187 and AR9271 drivers
Download rtl8192cu Drivers you need to flash base package first
Download rt2800usb Drivers you need to flash base package first
use loadrt2800 and unloadrt2800 to load and unload modules
i9100 rtl8187 experimental package
for ROMs based on samsung stock ROM please see HERE